Tips On The Best Footwear For Amputees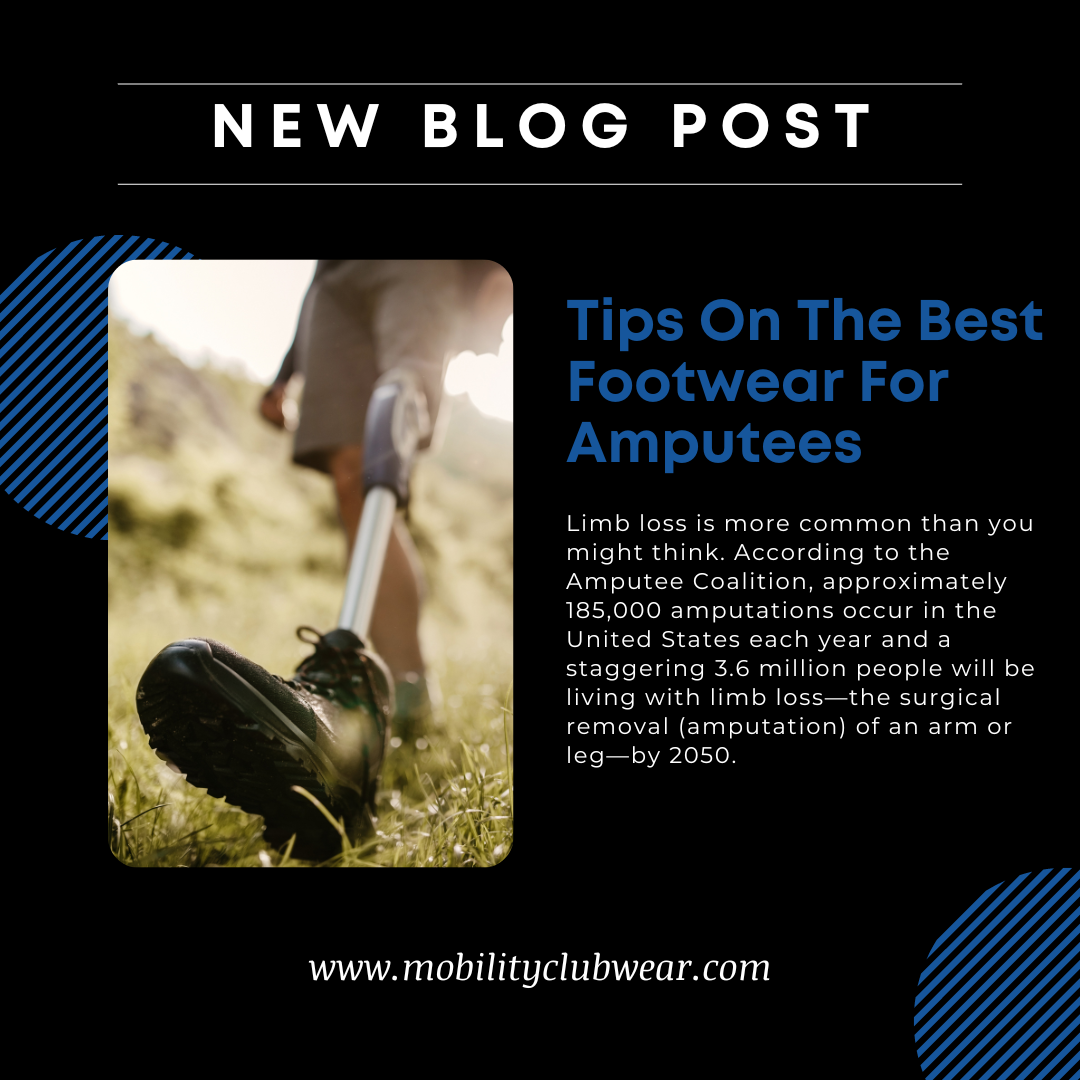 Tips On The Best Footwear For Amputees
Tips On The Best Footwear For Amputees
Limb loss is more common than you might think. According to the Amputee Coalition, approximately 185,000 amputations occur in the United States each year and a staggering 3.6 million people will be living with limb loss—the surgical removal (amputation) of an arm or leg—by 2050. Source - https://www.amputee-coalition.org
Losing a limb can be a major adjustment in many facets of life, including finding the right footwear to wear. In this article, we will explore different types of footwear that are designed for amputees, as well as tips on how to choose the best shoes for your needs. Whether you're looking for something fashionable or functional, you'll find some great tips here!
Different Types of Footwear
There are many different types of footwear available for people with prosthetics. Some are designed for specific activities, while others can be worn for any occasion. Here are some of the most popular types of footwear for amputees:
1. Athletic shoes: Athletic shoes are a great option for people with prosthetics who want to stay active. They provide support and stability when walking or running, and they can also be used for other activities like golf or tennis.
Casual shoes: Casual shoes are perfect for everyday wear. They come in a variety of styles and can be matched with almost any outfit.

Dress shoes: Dress shoes are a necessary part of any amputee's wardrobe. They can be worn for work, formal occasions, or just when you want to look your best.

Sandals: Sandals are a great option for summertime wear. They're comfortable and stylish, and they won't slip off like some other types of footwear.  Some prosthetic foots are specifically designed with a split toe to accommodate thong style sandals.

Slippers: Slippers are ideal for people with prosthetics who want something comfortable to wear around the house. They come in a variety of styles and can be made from different materials like wool or fleece.  Be careful to choose slippers that have gripped soles for safety against slips and falls.
Tips for Choosing the Best Shoes
Amputees have special considerations when choosing footwear. Here are some tips to help you choose the best shoes for your needs:
Make sure the shoe fits well. This is especially important if you have a prosthetic limb. Your shoe should be comfortable and not cause any chafing or rubbing.  You want to make sure the prosthetic fits well inside the shoe.  

Choose a shoe with a good grip. This will help you maintain your balance and prevent falls.

Look for a shoe that is lightweight and has a cushioned sole. This will help reduce fatigue and make walking easier.

If you have an artificial limb, make sure the shoe has a wide opening so that it can accommodate the prosthetic.

Ask your doctor or prosthetist for recommendations on what type of shoe is best for you.
Another consideration if you are purchasing more than one type of shoe and you are an amputee with a leg and or foot prosthetic is whether or not you will need to make any adjustments based on the height of the heel.  For example if your dress shoe has a higher heel than your casual shoe, an adjustment to the prosthetic might need to be made.
Amputees need comfortable and supportive shoes. With the right type of footwear, amputees can live a more active lifestyle and reduce their risk of injury. Considerations such as fit, material, cushioning, support and stability should be taken into account when selecting the best footwear for an amputee. The tips provided in this article can help you make sure that you are choosing the most suitable footwear for your needs.
If you are interested in submitting an article for our blog please contact us.